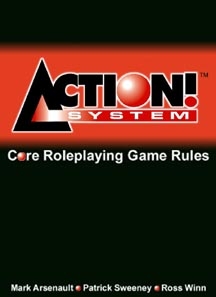 The Action! System Core Rules provide all of the basic rules necessary to create and play a role-playing game. Create adventures and characters based on your favorite movies, TV shows or novels. The Action! System is ready to play as-is, but with the addition of rules Extensions and Variants it is versatile enough to satisfy even the most demanding gamer!
Designer: Gold Rush Games
Link to Rules
Edit
http://rpg.drivethrustuff.com/product/28830/Action-System-Core-Rules-Free-Version?it=1
Ad blocker interference detected!
Wikia is a free-to-use site that makes money from advertising. We have a modified experience for viewers using ad blockers

Wikia is not accessible if you've made further modifications. Remove the custom ad blocker rule(s) and the page will load as expected.