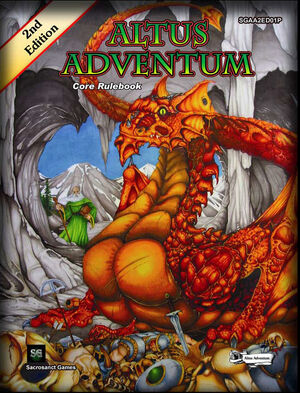 The book you have in your hand now is an introductory glimpse into the Altus Adventum 2nd edition role-playing game. It includes everything you need to have an adventure with brand new characters (what we call Aspirants).
The primer is limited in that only the beginning level skills, spells, and monsters are included. The full game contains all levels, which consists of hundreds of skills, spells, and creatures. The full version also includes additional rules to handle a more detailed combat encounter, and gives players many more options with their characters.
Designer: Roderic Waibel
Link to Rules
Edit
http://rpg.drivethrustuff.com/product_info.php?products_id=90863&it=1&SRC=TMP
Ad blocker interference detected!
Wikia is a free-to-use site that makes money from advertising. We have a modified experience for viewers using ad blockers

Wikia is not accessible if you've made further modifications. Remove the custom ad blocker rule(s) and the page will load as expected.