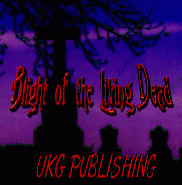 Blight of the living dead is a set of miniature rules for a Fantasy Zombie Slaughter Fest, including figure counters, character sheets, and full rules.
This product is designed to be used in conjunction with UKG Publishings': Master Plan: Necropolis
However it should work on any 1 inch scale terrain plans.

Designer: John Milner
Link to Rules
Edit
http://www.rpgnow.com/product_info.php?products_id=28900&it=1
Ad blocker interference detected!
Wikia is a free-to-use site that makes money from advertising. We have a modified experience for viewers using ad blockers

Wikia is not accessible if you've made further modifications. Remove the custom ad blocker rule(s) and the page will load as expected.