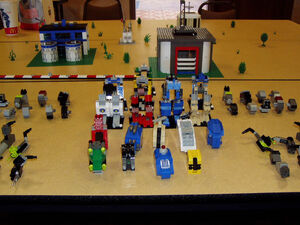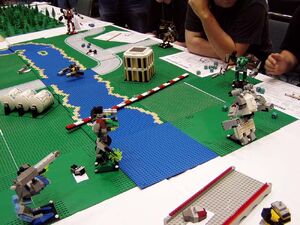 BrickMech is a d6-based game where Mechs built of LEGO® bricks vie for ultimate control of the battlefield. Constructed in a unique modular system, Mechs can scavenge parts blown off other Mechs to improve their stats. The game is designed to be a rich gaming experience that's simple to play.
BrickMech takes advantage of the nature of LEGO® as a building toy, and allows players to scavenge parts from destroyed or damaged Mechs. To simplify this, a Mech is conceptualized as constructed from six components:
1 Leg Assembly (mounted on a base)
1 Torso
2 Shoulders (right and left)
2 Arms (right and left)
Objective: To be the player or team with the last unit standing. Individual games may be played with other objectives—destroying a target, gaining possession of something, protecting a resource.
Designer: Peter F. Guenther
Link to Rules
Edit
Ad blocker interference detected!
Wikia is a free-to-use site that makes money from advertising. We have a modified experience for viewers using ad blockers

Wikia is not accessible if you've made further modifications. Remove the custom ad blocker rule(s) and the page will load as expected.