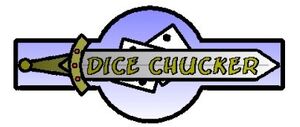 Dice Chucker is a rules-lite system that puts a new twist on rolling dice! A lot of players like rolling dice and Dice Chucker is here for them. You will find that Dice Chucker is chock full of dicey goodness! The rules here are pretty simple and straight forward and the details are meant to be handled by players and GMs as suits their tastes and the storyline. Dice Chucker's rules can be adapted to virtually any genre you like: fantasy, sci-fi, horror, western, etc. Let your imagination be your guide!
Steampunk Supplement also avaliable
Designer: Bobby R. Wallen Jr
Link to Rules
Edit
Ad blocker interference detected!
Wikia is a free-to-use site that makes money from advertising. We have a modified experience for viewers using ad blockers

Wikia is not accessible if you've made further modifications. Remove the custom ad blocker rule(s) and the page will load as expected.