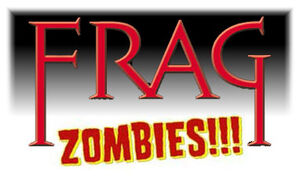 "Frag Zombies!!!" is a rule set that combines Steve Jackson Games' computerless first-person shooter Frag with Journeyman Press' B-movie action boardgame Zombies!!!. To use these rules you will need both games. The Frag expansion Death Match, while useful (for the extra Frag cards), is not necessary to play.
Frag Zombies!!! is played with primarily the Frag rules though the zombies, humans, Map Tiles, and Card Event Deck from Zombies!!! are all used during play. When these rules conflict with the Frag rules these rules take precedence.
Designer: Steve Jackson Games
Link to Rules
Edit
Ad blocker interference detected!
Wikia is a free-to-use site that makes money from advertising. We have a modified experience for viewers using ad blockers

Wikia is not accessible if you've made further modifications. Remove the custom ad blocker rule(s) and the page will load as expected.