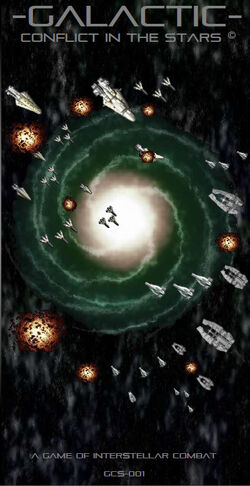 Welcome to the galaxy of Valde Rota. Through this document, you will enter an alternate universe where Earth is just a fabled planet. Here, the great empires and nations that once populated mythical Earth reside, scattered all over this alternate island of stars.
Among these stars live the historical descendants of Genghis Khan, King George and the Incan 'Children of the Sun.' There are also non-humans of many kinds. Some of them are wise and compassionate, while others are absolutely merciless. There are many more unknown to us, but their faint whispers call from across the cosmos. So, onward to the great spinning wheel of adventure that is Galactic: Conflict in the Stars.
Galactic: Conflict in the Stars is the quick and dirty starship combat simulation for the Galactic Universe. GCS lets the players toss a bunch of units in the gaming arena and blow the heck out of each other.

Designer: Arbron Imagineering - Iron Wind Metals
Link to Rules
Edit
http://www.ironwindmetals.com/d/node/1679
Ad blocker interference detected!
Wikia is a free-to-use site that makes money from advertising. We have a modified experience for viewers using ad blockers

Wikia is not accessible if you've made further modifications. Remove the custom ad blocker rule(s) and the page will load as expected.