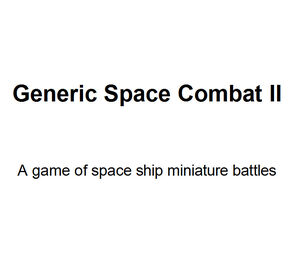 GSCII allows players to design their own ships, from the tiniest star fighter to the largest dreadnought. You can play games as small as a couple of gunboats to as large as massive fleets of capital ships. You get to use all of the cool special systems and attacks from the TV and movies - like ion beams, singularity missiles, transporters for boarding actions, tractor beams, cloaks, tunneling drives, scanners, assault pods, and mines - that the other games leave out.
GSCII fleets have been folded into Xenocide's universe, but it will remain flexible for anyone's desired background.
Designer: Thane Morgan
Link to Rules
Edit
http://web.archive.org/web/20061214203105/http://www.thanesgames.com/gsc2/gsc2main.html
Ad blocker interference detected!
Wikia is a free-to-use site that makes money from advertising. We have a modified experience for viewers using ad blockers

Wikia is not accessible if you've made further modifications. Remove the custom ad blocker rule(s) and the page will load as expected.