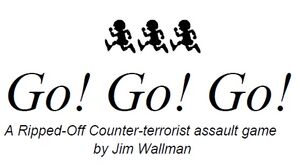 This figures game is closely modelled on the first person perspective computer game called Counterstrike. This version is played with maps and figures to allow some freedom of action and interaction with the environment not available in the computer game - and to allow people not very good at this sort of computer game to get some of the enjoyment of it. It is also handy when a multi-computer LAN isn't immediately to hand.
These rules are intended to be quick and easy to operate and set transfer some of the excitement of the original game.
Designer: Jim Wallman
Link to Rules
Edit
Ad blocker interference detected!
Wikia is a free-to-use site that makes money from advertising. We have a modified experience for viewers using ad blockers

Wikia is not accessible if you've made further modifications. Remove the custom ad blocker rule(s) and the page will load as expected.