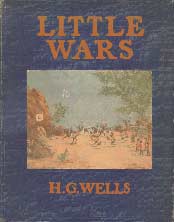 H.G. Wells original wargame rules. Download a piece of nostalga (http://en.wikipedia.org/wiki/Little_Wars)
THE beginning of the game of Little War, as we know it, became possible with the invention of the spring breechloader gun. This priceless gift to boyhood appeared somewhen towards the end of the last century, a gun capable of hitting a toy soldier nine times out of ten at a distance of nine yards. It has completely superseded all the spiral-spring and other makes of gun hitherto used in playroom warfare. These spring breechloaders are made in various sizes and patterns, but the one used in our game is that known in England as the four-point-seven gun. It fires a wooden cylinder about an inch long, and has a screw adjustment for elevation and depression. It is an altogether elegant weapon.
Designer: H.G.Wells
Link to Rules
Edit
Ad blocker interference detected!
Wikia is a free-to-use site that makes money from advertising. We have a modified experience for viewers using ad blockers

Wikia is not accessible if you've made further modifications. Remove the custom ad blocker rule(s) and the page will load as expected.