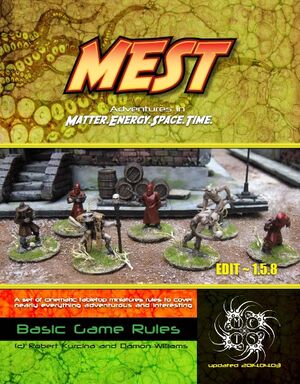 Matter. Energy. Space. Time. The MEST Narrative miniatures rules system is designed to be a flexible light-weight set of features that can work with numerous genres such as Swords & Sandals, Medieval, Swashbuckler, Wild West, Horror, Victorian Adventure, Pulp Heroes, Modern Battles, Future War, Sci-Fi, or Superheroes.
With these rules two or more players can simulate the last exciting minutes of derring-do, harrowing deeds, and heart-stopping acts of courage of any small-scale engagement pulled from any number of genres; from penny novels, serials, and otherwise. Will the dastardly villains win? Will the heroes prevail? Who lives? Who dies? The answers to these questions and more await your decision!

Designer: Robert Kurcina and Damon Williams
Link to Rules
Edit
http://sites.google.com/site/mesttactics/downloads/MEST.narrative.basic.pdf?attredirects=0&d=1
or
Ad blocker interference detected!
Wikia is a free-to-use site that makes money from advertising. We have a modified experience for viewers using ad blockers

Wikia is not accessible if you've made further modifications. Remove the custom ad blocker rule(s) and the page will load as expected.