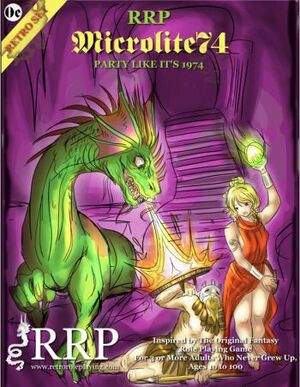 Microlite74 games, like all Microlite20 variants, are trimmed-down miniature versions of the Primary Fantasy SRD rules designed to be quick and easy to play, especially when compared to modern incarnations of the game. The goal of Microlite74 games is to recreate the style and feel of that very first ("0e") fantasy roleplaying game published back in 1974 without giving up all of the clearer mechanics of modern D20-based versions. The rules are not intended to be a clone of the 0e rules, but rather a conversion of them to a rules-lite D20-based system that encourages old-school play without strictly old-school rules.
While Microlite74was originally designed as an introduction to "old school" play for players more familiar with modern rules systems based on the Primary Fantasy SRD, it has become a game that many groups have chosen to run full blow campaigns with. Microlite74 version 3.0 -- released in October 2011 -- has been designed as a complete rules set for regular play, although it can still serve as a fast introduction to old school play for those more familiar with later editions. All three versions of Microlite74 use a rules-lite OGL based game system that old school grognards – especially those who cut their gamer teeth on "0e" – should find equally enjoyable. The system also easy to modify with your own house rules or rules drawn from your favorite edition of the world's most popular fantasy roleplaying game. The game system is also compatible with most 0e-based rules, adventures, and other materials
Designer: Randall S Stukey
Link to Rules
Edit
http://www.retroroleplaying.com/content/microlite74
Ad blocker interference detected!
Wikia is a free-to-use site that makes money from advertising. We have a modified experience for viewers using ad blockers

Wikia is not accessible if you've made further modifications. Remove the custom ad blocker rule(s) and the page will load as expected.