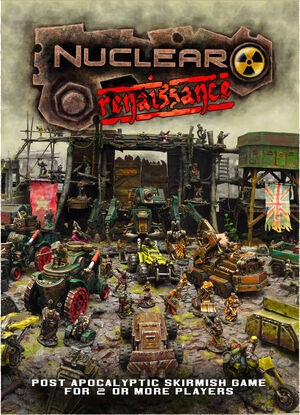 In nuclear Renaissance you take control of a group of individuals and their equipment. You can take a band of heroes, setting forth to right the wrongs of the world and earn honour. Or maybe you'd like to control a vile band of mutants, scavenging what they can find? Or perhaps you just like big guns and fast transport? What unites all the gangs vying for control is speed. Move fast and stay in cover, as they say. Vehicles play an integral role in the game, be they heavy slow transports or lightning fast attack bikes.
Nuclear Renaissance is a tabletop skirmish game. Players collect a gang of hardened fighters and awesome vehicles from the customisable range of parts and characters. Each player then pits his or her wits against friend and foe alike in a bid to win the coveted prize: to be the last gang standing. Here follows the rules for playing the game.
Designer: Ramshackle Games
Link to Rules
Edit
Ad blocker interference detected!
Wikia is a free-to-use site that makes money from advertising. We have a modified experience for viewers using ad blockers

Wikia is not accessible if you've made further modifications. Remove the custom ad blocker rule(s) and the page will load as expected.