One Page Skirmish is a skirmish game designed to be played with just a handful of miniatures. Experience heroic battles featuring dynamic mechanics which allow you to jump onto your foes from ledges or kick them into deadly terrain.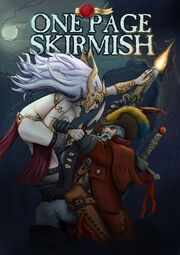 https://onepagerules.wordpress.com/portfolio/one-page-skirmish/
Ad blocker interference detected!
Wikia is a free-to-use site that makes money from advertising. We have a modified experience for viewers using ad blockers

Wikia is not accessible if you've made further modifications. Remove the custom ad blocker rule(s) and the page will load as expected.