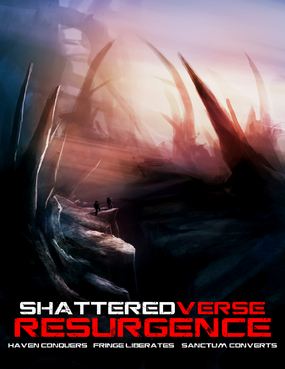 "We knew we weren't alone in the universe."
SHATTEREDVERSE: RESURGENCE has arrived. In 2010, author Adam Isherwood created the original 15mm tabletop miniatures wargame and universe, known as Shattered Verse. In 2014, CPOP has relaunched the title, the universe and its exciting 15mm battles. Immerse yourself in a universe where armies are constructed in such a unique fashion, allowing players to amass troops, vehicles, walker and flyers from various races that span the many galaxies that make up SHATTEREDVERSE.
These quick start rules feature a basic view of the coming full rules for SVR, a 15mm tabletop science fiction wargame. Armies are assembled, taken to battle and fight in exciting, fast and easy-to-learn battles. These quick start rules also feature basic selections for the 3 factions that fight for control of the Neo Verse: Haven, Sanctum and Fringe, as well as basic selections for the human race. Planned to follow up this quick start, is another free collection of various races available for the game, and will also introduce new rules, additional abilities and more content.
A NEW VERSE. A NEW WAR. THE SHATTERING IS REBORN.
This is SHATTEREDVERSE: RESURGENCE and you are welcome to join us for the ride!
SVR is a re-imagining of the original Shattered Verse tabletop miniatures game, by Adam Isherwood. SVR features new rules, updated from the second edition in 2010 and introduces new ideas and concepts. SVR is created, developed and written by Neuicon and M.A. Favale, published by CPOP.
SVR has an online Facebook Group, where members can interact, share battle reports, miniatures paintings, race ideas and much more.
Ad blocker interference detected!
Wikia is a free-to-use site that makes money from advertising. We have a modified experience for viewers using ad blockers

Wikia is not accessible if you've made further modifications. Remove the custom ad blocker rule(s) and the page will load as expected.