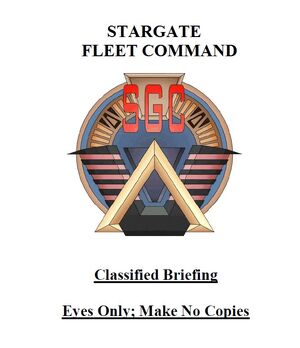 The document you now hold in your hands is my attempt to allow the gamer to play out ship-to-ship combat in the Stargate SG1 Universe. Stargate SG1 (in case you have been living in a science fiction void) is the hit TV series Produced by MGM first for ShowTime and now for the Sci-Fi channel. This series builds on the adventure started in the Stargate motion picture and in many ways exceeds the motion picture. Stargate SG1 has been nominated for numerous science fiction and television industry awards and has received several of those awards to date. With such quality source material it is my intent to only game those ships and systems seen on the show. As such, these rules have been a long time coming. Because most of the ship combat on the series has only come in the last several seasons.

It is my hope that these rules will provide the player with a simple and fast paced approach to gaming. I also wish to balance easy play with enough detail to accurately portray the source material. And last it is my intent to make this rule set as clear and concise as possible. Thus allowing very little room for rules lawyering and unintended advantages.
I would like to thank Jon Parry and Thomas Parry for extensive play testing. Their work greatly aided in determining the game balance of the ships in actual use. Also a thank you goes out to Jon Parry for his suggestions on rephrasing certain passages of the rules. The rule system you now hold is much clearer for his input. However all mistake still rest solidly on my shoulders.
Designer: Scott B. Jaqua
Link to Rules
Edit
http://www.reocities.com/Area51/Nebula/1520/Stargate_rules.pdf
Please use the above link to save bandwidth - Backup copy
Ad blocker interference detected!
Wikia is a free-to-use site that makes money from advertising. We have a modified experience for viewers using ad blockers

Wikia is not accessible if you've made further modifications. Remove the custom ad blocker rule(s) and the page will load as expected.