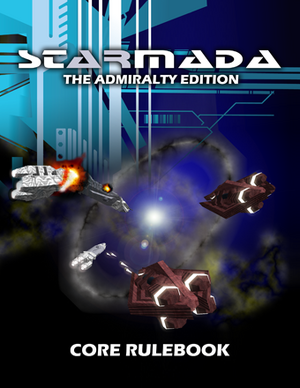 Starmada™ is a miniatures board game of starship combat. At its most basic level, players take command of space fleets in a general attempt to reduce each other to just so much space junk. At its most advanced, the game can be customized to breathe life into any science fiction background that players might imagine.
Novices shouldn't fret; the core set of rules has been designed with simplicity and ease of play in mind, accessible even to beginners. On the other hand, seasoned veterans should find the concise nature of the rules quite refreshing. It allows players to concentrate on the finer points of squashing their opponents rather than arguing about rules interpretations, without sacrificing any of the flavor or excitement of more complex games.
Simple, but not simplistic, is the guiding principle.
Designer: MJ12Games
Link to Rules
Edit
http://www.mj12games.com/starmada/SAEdemo.pdf
Ad blocker interference detected!
Wikia is a free-to-use site that makes money from advertising. We have a modified experience for viewers using ad blockers

Wikia is not accessible if you've made further modifications. Remove the custom ad blocker rule(s) and the page will load as expected.