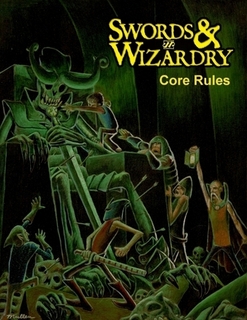 The Swords & Wizardry project builds and supports free-form roleplaying games. That is to say, games where "light" rules create a framework instead of trying to cover every detail, every rule, and every situation. The Swords & Wizardry game "clones" the original rules of the fantasy roleplaying game that started it all back in 1974, when it was published by Gary Gygax and Dave Arneson. We also support two games we didn't write: OSRIC and Goblinoid Games' Labyrinth Lord. OSRIC is a clone of the game's 1978 "First Edition," and Labyrinth Lord is a clone of the game's 1981 "Basic" Edition. All these game rules are rewritten and reorganized to be easier to learn and play.
Designer: Mythmere Games
Link to Rules
Edit
Ad blocker interference detected!
Wikia is a free-to-use site that makes money from advertising. We have a modified experience for viewers using ad blockers

Wikia is not accessible if you've made further modifications. Remove the custom ad blocker rule(s) and the page will load as expected.