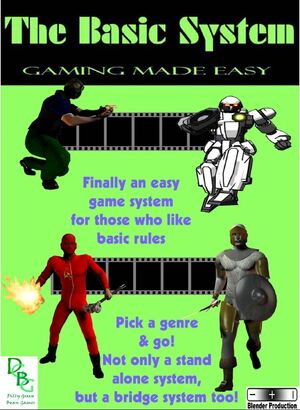 The Basic System or TBS was designed by gamers for gamers. With so many systems out on the market today, it costs serious money to keep up with what's trendy. Well now you don't have to fork out your money for overpriced books. All you need is the TBS PDF rules and you can walk into ANY game book put out by the heavy hitters today.
The Basic System is really basic. We have taken stats that have worked for us over the decades of gaming and applied them into one super simple system. SSS. TBS takes maybe 10 to 15 minutes to create characters. It offers the detail you might want without all the page surfing looking for the rules. This is a system for the gamer that
Designer: Dilly Green Bean Games
Link to Rules
Edit
Ad blocker interference detected!
Wikia is a free-to-use site that makes money from advertising. We have a modified experience for viewers using ad blockers

Wikia is not accessible if you've made further modifications. Remove the custom ad blocker rule(s) and the page will load as expected.