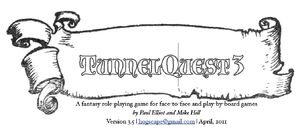 This is a home-brew game that's seen about 3 years worth of play-testing (on and off). It's a generic 'vanilla' fantasy game; I know there are a lot of these around but please bear with me.
The design is loosely based on a game by Paul Elliott (Mithras in the RPG.net forums) called Dragons (and used with his permission).
Broadly speaking, it's class based in that your starting point in the game is defined by the character's class and certain tasks are easier or more appropriate for certain classes but it isn't a black and white distinction, your warrior character can cast spells if you insist but that will 'dilute' his ability to kick butt in combat.
The game uses a standard 2-dice 'roll-equal-or-over' mechanic but keeps the modifiers to a minimum so there are very few numbers to juggle.
The system is 'pass or fail' with a slight difference in that if the PC's roll fails, the opponent necessarily succeeds. So one dice roll determines the outcome of each combat round.
The upshot of this is that the referee never has to roll any dice. The game plays out on the strength of the players' rolls. Not only does this give the ref. time to focus his or her attention elsewhere but makes the game quite convenient for play-by-board outings.
Designer: Mike Hill
Link to Rules
Edit
Ad blocker interference detected!
Wikia is a free-to-use site that makes money from advertising. We have a modified experience for viewers using ad blockers

Wikia is not accessible if you've made further modifications. Remove the custom ad blocker rule(s) and the page will load as expected.