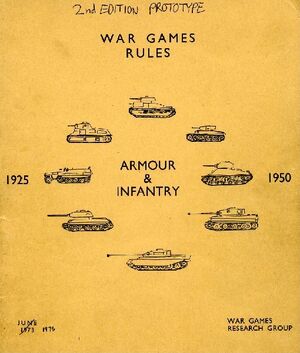 Although our title gives prcedence to armoured warfare, this set of rules is equally suitable for combat between infantry companies, and is the first to make realistic provision for all the fringe areas such as communication, engineering, air attack, obstacle clearance, fighting in fortifications, off-table fire, air observation, target location, weather, all types of terrain and the reaction of troops to combat stress.
The rules are designed to be equally suitable for the old favorite 1/72 scale models and figures and the newer scales down to 1/300 which are revolutionising modern period war gaming.
Designer: Wargames Research Group
Link to Rules
Edit
http://www.wrg.me.uk/WRG.net/History/wrg.html
Ad blocker interference detected!
Wikia is a free-to-use site that makes money from advertising. We have a modified experience for viewers using ad blockers

Wikia is not accessible if you've made further modifications. Remove the custom ad blocker rule(s) and the page will load as expected.