I play many WW2 games and don't like to constantly have to look up tables to see what table to look at next. So I came up with a set of quick and easy rules.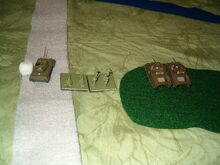 The link to the boardgamegeek site where the rules can be downloaded is below. These rules are great for use with 1:144 and similar sized miniatures. (10mm should work too).
A game by Ron Howard (no, not the famous one!)
Ad blocker interference detected!
Wikia is a free-to-use site that makes money from advertising. We have a modified experience for viewers using ad blockers

Wikia is not accessible if you've made further modifications. Remove the custom ad blocker rule(s) and the page will load as expected.